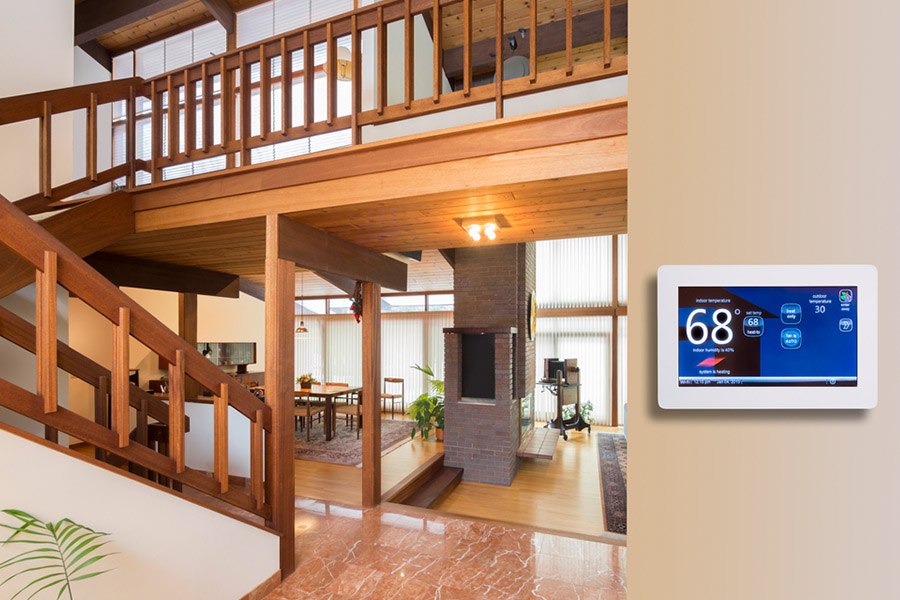 Should You Install A Smart Thermostat In Johnson City?
Today's smart thermostats have evolved quite a ways past the basic mechanism for regulating your HVAC system. If you would like to install a smart thermostat in Johnson City, you stand to enjoy a wealth of comfort with less effort on your part. Offering the benefits of easy Wi-Fi access, multi-room sensors, and integration into your home automation network, these revolutionary devices will bring down your utility bills and improve your home's overall comfort and safety.
How Do Smart Thermostats Work In Johnson City?
Once installed, your smart thermostat will run in a comparable fashion as your old one in the sense of basic functionality. The style will likely be sleeker, but you'll still be able to view the current temperature. You'll still have the chance to raise and lower the temperature directly at the unit, and it still offers the ability to choose from cool, heat, and fan.
But, when you install a smart thermostat in Johnson City, you will benefit from a whole host of advanced possibilities. That's because your home's comfort control is linked into another network within your home, like your Google smart speaker or your comprehensive home security. With a smart control panel or cell phone app, you may program your smart thermostat to change the temperature in an automated manner at whatever times you choose or to react to different stimuli. In the end you have a property with enhanced comfort and energy efficiency.
Reasons To Install A Smart Thermostat in Johnson City
There are many justifications for switching from your standard unit to a smart thermostat:
● Simple management through a cell phone app. You can direct the thermostat remotely with a smartphone app like ADT Control. Are you feeling a bit overheated while you're attempting to fall asleep? You can easily grab your smartphone and turn on the air from your bed. You might even check on your house's comfort levels while on summer break, and alter the heat to save energy when nobody's there.
● Take advantage of scheduling. An innovative smart thermostat gives you the ability to use a schedule for your home's comfort. Set multiple temperature changes to best fit your lifestyle. Bring down the temp as you prepare for sleep, then bring it back up about an hour before you wake up. You might even create heating or cooling scenes for certain situations -- like a scene for entertaining or a scene for when you use the fireplace.
● Lower utility bills by using automation. One of the best things about smart thermostats is they will lower utility costs. You are able to easily alter temperature settings as needed in regards to seasonal fluctuations, weather events, or time of day. You'll never waste money treating the air within a vacant residence. Additionally, when implementing schedules, your thermostat adjusts itself. Various utility companies also provide incentives and rebates under specified circumstances.
● Use voice activation to manage your property. If you elect to install a smart thermostat in Johnson City, you also have the opportunity to program it to operate with a Google or Amazon AI assistant. This offers the chance to control the settings without stopping what you're doing.
● Connect your thermostat to additional home automation devices. When your smart thermostat is incorporated within an overall home defense package, you have the chance to join all your devices together. This could help safeguard your house when emergencies arise. For example, you may direct your thermostat to engage the ventilation fan when your fire alarms sense excess heat.
Get A Smart Thermostat In Johnson City Today
If your standard thermostat fails to satisfy your energy reduction and comfort demands, you should consider upgrading to a versatile "smart" model. They're sleek, easy to use, and can save money over time. It's also best when you connect it with a modern home security system. Contact us today at (423) 241-8092 or complete the form on this page to request your smart thermostat.
Cities Served Around Johnson City By Secure24 Your Local ADT Authorized Dealer